Sometimes the heart rejoices to see things done right, especially when it comes to the restoration of old and crumbling buildings into vibrant living places, all done with more than just a passing nod to past heritage. Hotel Penaga in Georgetown is one such place. For a long while now, one of my friends has been missing from Kuala Lumpur — and here's the reason. She and her husband have been fully occupied with restoring a block of shop houses into a boutique hotel.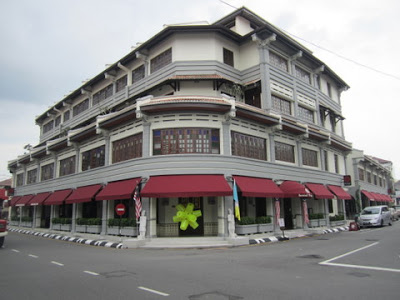 Hotel Penaga
To see the "before" photos, click here — and read how Hijjas (one of Malaysia's top architects) and his wife Angela, (just as well known, but as an active supporter of the arts and as an environmentalist) achieved and furnished this result. It has been a labour of love — and it shows.
We stayed in the hotel recently — as part of the owner's landmark birthday celebrations.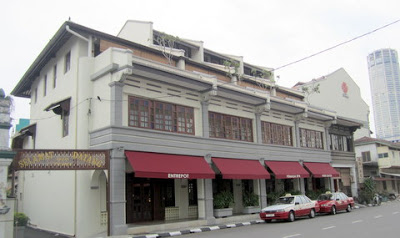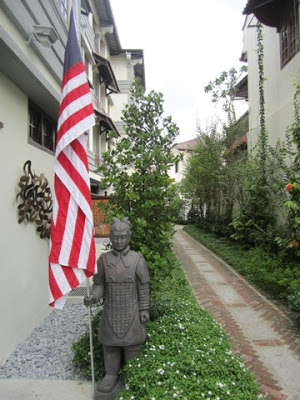 In between two parts of the hotel is a little laneway, which has become a feature of the hotel. Here, all is quiet and peaceful. A path wanders through to the next cross street, a garden is planted with both local plants — including the penaga tree — and exotics.
Of course, you can guess the original purpose of the laneway, right? Yeah, the dunny alley…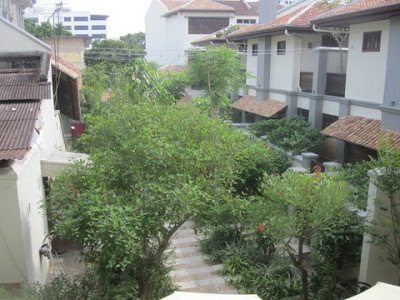 The view from our window (another side lane)
Another view further down the lane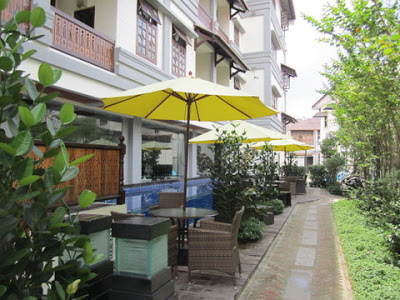 A place to sit out in the open beside the pool…right under our upstairs window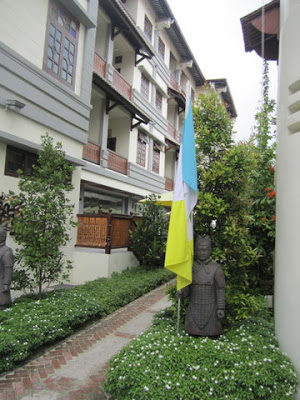 Our first floor room was to the left in this photo.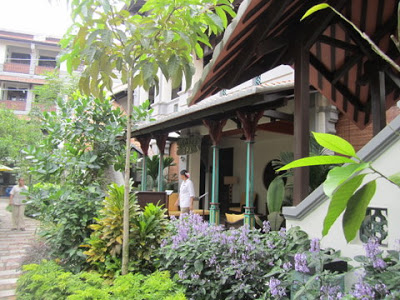 The hotel spa, entered from the lane
Another view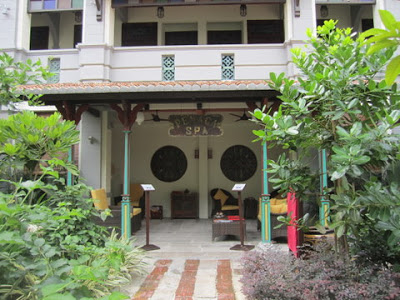 The spa entry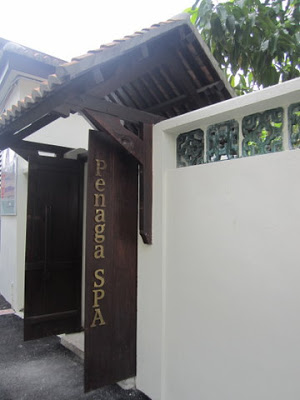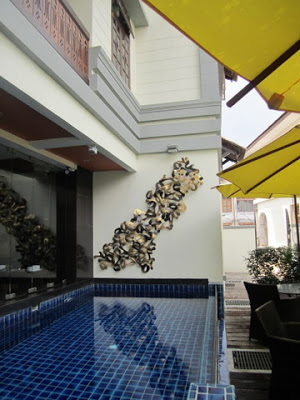 The pool beside the lane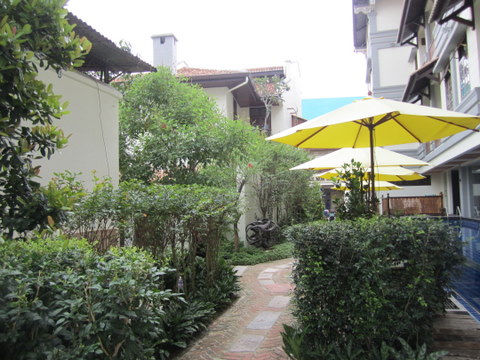 Looking the another way down the lane
The pool, looking down from our window
And, of course, one of the joys of the setting of Hotel Penaga is the fact that you can walk out of the door and you are in the heart of the old district of the city. An amble takes you to the World Heritage site of Penang, and everywhere there are things to explore: art galleries and antique and junk shops, clan houses and temples, ancient mosques and the old British cemetery, the water villages and old quays, the finest colonial architecture — all within walking distance.
Inside our room, showing the combination of modernity and period-style furniture
The passage outside our room
And if you don't know the glory of Penang cuisine, this area is the place to check it out. You can go for high class restaurants to street stalls and food courts, all within walking distant. And if you want to eat in, there's the hotel restaurant featuring a range of ethnicity in its dishes.