Remains of ancient oil jars photographed by a camera lowered into a cave somewhere in the Middle East?
Nope. Each is hardly much bigger than my thumbnail and they are made of mud, by potter wasps. All found during a spring clean of my house.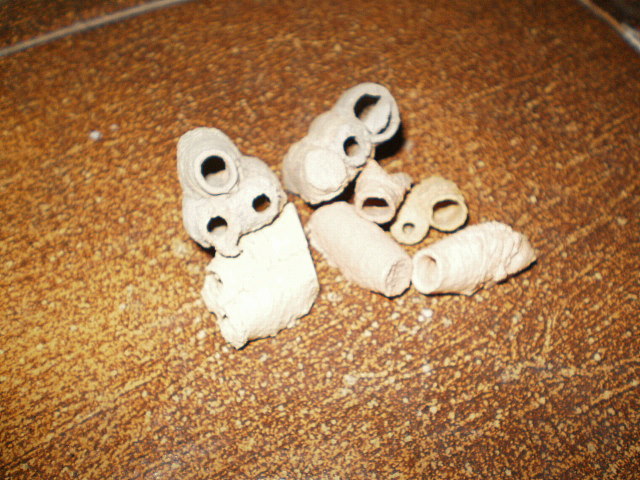 You never know what you'll find inside your home in the tropics. Apart from the ubiquitous roaches and other sundry insects, I have — over the years in this house — found the following either inside or on the verandah:
Cobras, grass-green whip-snake,
house rats, some kind of native rat with a white belly, shrews, house mice, plantain squirrel,
treeshrews (which is not a rodent),
three foot monitor lizards, common house geckoes (chichak), another larger gecko with reddish spots,
common palm civets,
oriental magpie robin, yellow-vented bulbul, white-throated kingfisher, pied fantail, white vented myna,
scorpions, centipedes including the long-legged centipede, millipedes,
crickets and grasshoppers, jewel beetles, click beetles, longhorn beetles, rhinoceros beetles, moths larger than my hand,
bats,
frogs (including treefrogs), horned toads,
earthworms, blindworms (not sure what the correct name is),
spiders (including jumping spiders, and a huntsman carrying around twenty thousand babies that ran off in twenty thousand different directions)
monkeys — macaques and also leaf monkeys (neither inside the house but up on the roof),
neighbourhood cats of all colours and sizes…
I think I'll stop there.