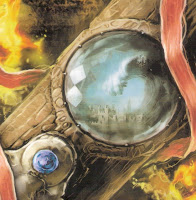 Very occasionally, when I say I write fantasy, the listener imagines I write sex fantasies. I won't go there, except to say I haven't worked out a really good reply to that one yet.
Occasionally I get someone saying, 'Oh, I'm afraid I don't read science fiction. I like my books to be real.' Or something along those lines. They don't mean non-fiction, though; they mean books set in our time and place, or at least in known history of this world. Usually I don't say much, but I could point out that fiction is…well, fictional. It's not real, folks.
Often I have the person say, 'Oh you mean things like Harry Potter?'
My reply, 'Yeah, Harry Potter without the money.'
Best of all is when someone replies, 'Oh, do you? I love fantasy! What name do you write under?'
For them, fantasy works. They like to read it. Ask them why, and you get a whole slew of answers from different people that seem at first to have little in common. But I believe they mostly can be condensed down to two reasons.
Firstly, many of us live in a world where we are relatively powerless. We look around and wonder what we can do to stop global warming, and our own government won't sign the Kyoto Protocol. We don't throw our rubbish on the footpaths, but we have to wade through other people's litter. We pay our taxes and take pride in the things it buys for our citizens – schools, hospitals, health care – but the mega rich squirrel away their money in dodgy tax havens and claim their fancy cars as business expenses. We teach science, and the teacher in the next classroom is busy telling her students there's no such thing as evolution.
Most of us are just small people in a big world, wondering if we'll ever make an impact on things that really matter.
But when we read, we can fulfill our dreams. We can identify with the little guy who does great things. For a moment, we can be the Hobbit doing huge deeds, or the citizenless girl living feral in a cemetery who grows up to be Blaze Halfbreed, making a difference to a whole archipelago of islands.
In fantasy terrible things can happen, but because they happen in a world that doesn't exist anywhere except on the printed page, we aren't traumatised by them. Read a book like "Room" – brilliant literary fiction about a boy born and brought up in the tiny room where his mother is imprisoned as a sex slave – and we can come away feeling distressed because we know it happens. In our world. Now.
In fantasy we can make it all come good in the end if we want. In the real world, we don't have that choice.
The second reason is that reading fantasy stretches our imaginations. There's a "wow" factor. You never know what's around the next corner. The sensawunda. The fabulous, the weird, the wondrous. You can get this in today's fiction-set-in-this-world too, but there are always limits before it slips across into fantasy or paranormal or science fiction. But in fantasy, a good writer can convince you – for a while – that their world is viable, and take you along for the ride of a lifetime.
To me, those two reasons encapsulate why we read fantasy.
What do you think?
Pics from my foreign language editions.