…on Lake Temengor, within the Royal Belum State Park…
…Perak, Malaysia…
…we pulled the boat into the shore…
…near this dead rainforest tree…
…drowned when the dam was built…
…which has bamboo lashed to the trunk…
…by the indigenous people of the forest area…
…to form a ladder…
…to raid a nest (probably of a Hill Myna)…
…and there we waited…
…and watched from 6.40 a.m. until 8.10 a.m…
…and the birds came.
1,617 of them.
I know because I counted every one.
Their wings whoosh audibly as they fly…
… and their voices call: Kok-ok! …
…as they keep in touch with one another…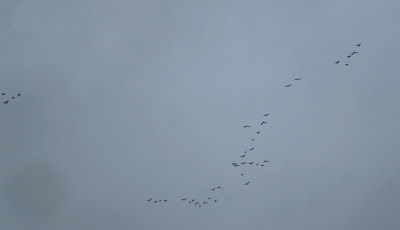 Every one a hornbill.
A Plain-pouched Hornbill.
…flying from overnight roost to food source.
Endangered.
Perhaps the last flocks on earth…