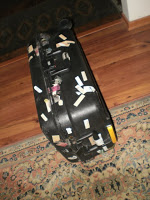 …to a wonderful piece of luggage.
If you have been a follower of this blog for sometime, you will know I am always travelling. To see the kids, to conventions, for my work, because we lived in Borneo for a time, and so on.
And I had a suitcase. It was made by Citymark. I had it for about ten years, possibly more. It was bashed and battered by every airline from here to Glasgow, Kandy, Sandakan, San Fransciso or Yogyakarta. It was used four or five times a year. And it never flinched. Its handles remained intact, its wheels spun, it stayed shut when it was supposed to, as it travelled around the world with either my husband or myself. It was plastered with travel tags – many of which fell off but others you can see in the photo.
During those ten years my husband went through an average of one suitcase a year. Usually the wheels snapped off, or the handles. He bought a hideously expensive "Made in America" brandname suitcase, thinking the cost would be worth it. The first time he used it one of the wheels disappeared and the pull-handle could no longer be pulled out. The second time he used it another wheel fell off. The third time he went to use it he didn't even get it out of the house – it wouldn't unlock, even with the correct digits entered. As he had accidentally put his ticket inside, we had to smash open the combination with a hammer, then repack into another suitcase — all while the taxi was waiting. So much for the expensive suitcase.
And all the while, my suitcase trundled along happily whenever it was used. Until one day, it finally, finally, expired. Someone managed to put a huge crack in it (even then it refused to fall apart) and the lid was bent out of shape so it was hard to close, and the locks wouldn't align. Still those wheels and those handles were in perfect shape…
Goodbye Citymark. I wish I could find another like you, with sturdy metal shafts to the wheels…
I bought another suitcase today. I couldn't find the Citymark brand.
Hush Puppies: you are under notice: I chose you because you were the only one I could find that didn't have wheels just asking to be snapped off. But if your zips give up on me in under ten years, I shall be very, very unhappy, right?
And a piece of advice to travellers. Never buy a suitcase made in mainland China. You will be lucky if it gets to the front door intact…on your way out of the house.
.
.
.