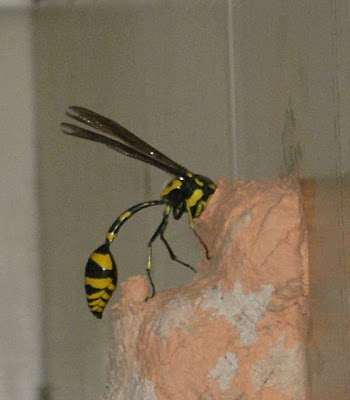 Ok, the very last wasp photos, I promise.
Now surely you can see how beautiful she is? How extraordinarily fragile? And how dedicated to her young? In these pix she is building the top wing of the children's nursery. In the top photo, an enlargement of the one to the right, she is moulding the entrance hole…
This is one of the Solitary Wasps – not to be confused with the Social Wasps, which are the scary ones, and which I have been stung by – 30+ stings in a single attack – and one species of which I have developed an allergic reaction to (fortunately not the aforementioned that swarmed in fury when their nest was accidentally disturbed by someone else. An attack that resulted in my losing a shoe in mangrove mud and having to bathe in an irrigation/drainage ditch…but that's another story.)
I suspect this is a Eumenidae, some of which are called potter wasps because of their gorgeous pot-shaped nets. We have those around the house too. This one here though is possibly Eustenogaster calyptodoma. Any wasp folk out there can confirm?