I'm back from Terengganu.
And a very long drive it was too – we took over 8 hours to return.
So here are some more pics from the beach below our hotel in Kuala Terengganu.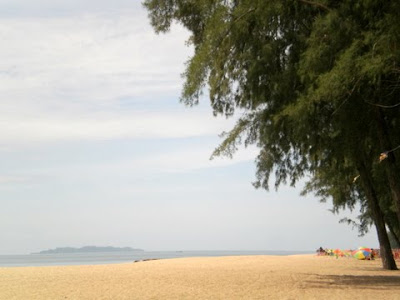 The states of Kelantan particularly, but Terengganu as well, have a long tradition of building and flying kites.
So, where are all these kites from?
— China.
Sigh.
Below: I particularly loved these bird kites in flight. They were so real, fluttering the primary "feathers" while flying!
Below: decisions, decisions….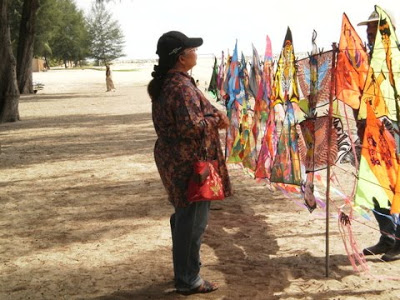 Below: And here's two kites battling it out in flight. And note that bat kite on the stand at the lower left. In flight, that fellow looks totally wicked, with bright flaming orange eyes…scary.
Birds…well, I didn't actually go birdwatching, but I had my binoculars. There were ten or so Little Terns around the harbour, a dark morph Reef Egret, a kite of the living kind – a Brahminy, and a pair of adult White-bellied Sea-eagles with a nest and this fully fledged youngster below, high in the casuarinas. Nice to know these magnificent eagles can nest in the trees right above the kite sellers and parked cars, next to a large hotel, and still bring a young to the edge of independence. You can see the nest in the second photo below, with the young waiting, hoping to be fed.