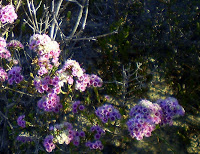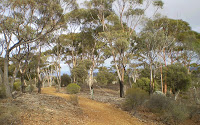 I was in the flower market in Amsterdam once, with my sister. As we were admiring the bunches of picked flowers in buckets, one of us exclaimed, Look! Morrison!'


We turned to say to the flowerseller,

"This is a flower native to the place where we grew up!"
And she said, "Oh, you're from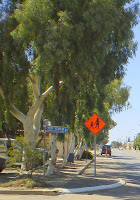 Israel?"
Sheesh.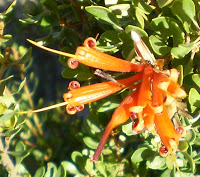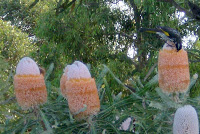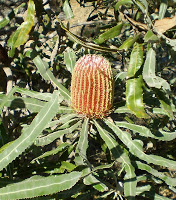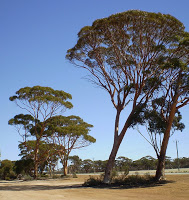 I have walked in Italy and the south of France, in Greece and Turkey, in Tunisia, Algeria and Morocco, and in each one of those places I have had the locals point out their lovely native trees — Eucalyptus every one.
I have heard Californians wax lyrical over their lovely Californian trees. Yep, Eucalypts.
Last night we had dinner with an old friend, a Brazilian nuclear scientist. We were talking of trees and native fruits, and he said he looked forward to showing me the wonderful Eucalyptus groves of Brazil. "They are our native trees," says he. "Very beautiful…"
Listen folk. Let's get this straight for once and for all.
Eucalyptus trees are native to Australia
(which has over 700 species)
and a few islands of South-East Asia
(which have 15 species, 8 of which are also found in Australia).

AND NOWHERE ELSE.
Ok?
You may grow them, but you pinched them from downunder first!

And Morrison (Verticordia) is also Australian. In fact I seem to remember reading somewhere that Western Australia had more wildflower species than the rest of the world put together. I have no idea if that extravagant claim is true or what their definition of wildflower was anyway, but I do know that when we were feral kids scampering around the range at the back of our place in spring, the morrison was just one in masses and masses of gloriously absurd and wonderful flowering plants.
If you haven't seem the West Australian woodlands in spring, you have missed one of the world's great experiences.
See here for a tiny taste. And note that Verticordia. The top lefthand pix on this page is also Verticordia. The trees are all species of Eucalyptus. The topmost are called blackbutt…three guesses why. All photos were taken in my home state, Western Australia.