On the way between Newark Airport and Charlottesville, we stopped in Baltimore and went for a ride across the harbour and a walk…
Can't say it had been high on my "must see" places, but it really was a lovely area to spend some time in. Baltimore on Chesapeake Bay has always been a working harbour.
The first photo is extraordinary – it's a lighthouse which used to be standing on some rocks in the middle of the estuary – and it had a live in lighthousekeeper. One scary job in a storm, I would have thought. Now how can I use that in one of my books…hmmm….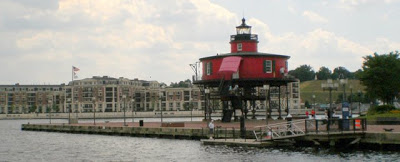 Pix 2 has to be one of my favourite bookshop locations – on the waterfront, in a power house with Hard Rock Cafe to hand…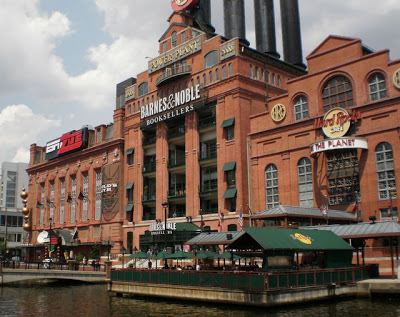 And here is one of the original ships of the American navy, the Constellation.
The rest are just interesting buildings. One of the nice things about the old town is the little decorative bits…