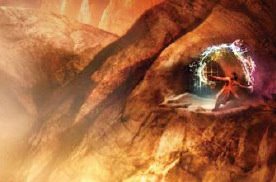 Well, it started maybe not so well – with a traffic jam followed by a long overdue mammogram (squash) and ultrasound (squish). Perked up a lot at lunch with several friends who work for the Malaysian Nature Society, then was dampened down by their reports on the Various Strange Ways Authority Try to Wriggle Out of Taking Care of Our Mutual Environment, because Immediate Money is More Important than Longterm Economic Benefits and Health.
More traffic jams, then spent the afternoon with a very dear friend from University days who is recuperating from knee surgery.
Then, home again:
Editor emails me with the finished cover of the Oz version of Book One of The Watergivers trilogy, The Last Stormlord. (And here's a tiny tantalising bit for you to look at on this post. Artwork by the very talented winner of the Best Fantasy Artist for two years in a row, 2007 and 2008, Vincent Chong. Aren't I the lucky one!).
Then:
Agent tells me she thinks Book 2, Stormlord Rising, is the best book I have ever written. Wow. Double wow, in fact, especially as it is the middle book of a trilogy, usually a tough one to get right. Triple wow, because she has high standards.
Then:
She adds that I have an offer for translation rights for The Isles of Glory in yet another language (so far it is out in English, Russian and French). Fingers crossed that goes through. Yay. And I wrote the first book of this trilogy back in 1990, so it is really nice to know that it is still relevant and has not dated!
So there you are, apart from the squash and the squish, this was a pretty good day!