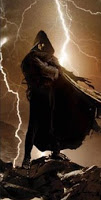 …i.e. reminding the reader what happened in Book One, The Last Stormlord. (Yeah, I know, it hasn't even been published yet, but as I am finishing up Book 2, I have to think about this now.)
Every writer would love their readers to be SO impressed by their book that every word remains imprinted on their mind till the day they die. Alas, it doesn't happen like that, not even remotely.
Looking at what my beta readers forget is humbling. It is in fact easier to look at what they remember. Characters, the main ones, stay with them, but not the minor players, no matter how well you draw them – unless they are really odd or pivotal in some way. The world stays with them, especially some parts of it. Everyone retains a vague memory of the story line but how much is so variable I can't even generalise as to the amount.
Different people remember different things with startling clarity. Particular scenes affect different people in varying ways. Some remember things that even I've forgotten!!
What particularly universally disappears from their memories is the magic. I don't mean the broad outline, but the subtleties. My beta readers kept making comments like, "But can't character A get out of this sticky situation by doing magic type B?"
Er, no, 'fraid not. Character A is a rainlord and they can't do that. Only a stormlord can do magic type B. (I guess it didn't help that there is a rainlord character in Book 1 whose magic is aberrant.)
So I know that in Book 2, and probably Book 3 too, I have to somehow subtly remind the reader just what the difference is between a rainlord, a stormlord, a cloudmaster and a water reeve.
That's one of the very important reasons that one has beta readers, bless 'em.
BTW, Marina made an interesting comment about synopses versus other forms of reminder here. In answer, I mention the possibility of using a glossary this way. I am still debating the idea of a glossary for book 2. (Book One did not have one). What do you all think?
I have added a poll on the sidebar. It allows for multiple answers. If your answer is the last choice, please feel free to give an alternative in the comments!