When in SF, one has to do the SF thing and cross The Bridge. Which seems to mean venturing into a fog, no matter what time of the year, or what time of the day. The top pix shows the kind of weather we had the whole time we were in the city, and was taken from the viewpoint at one end of the bridge. The other pix show the bridge at more or less the same time.
Tell you, that fog is … creepy.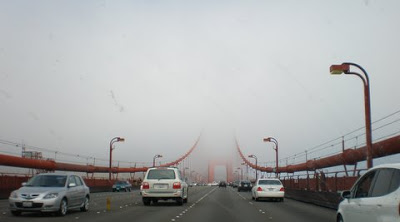 Note to self: next time, clean the windscreen first.
And today I read in the newspaper that the powers that be have just decided to spend $US 40 to 50 million on netting to stop suicides jumping off the Golden Gate – there were 39 confirmed suicides last year and possibly a whole lot more that slipped under the radar.
Sorry, but that seems a ridiculous waste of money to me. Most people who decide to take their lives are going to do it unless there is some kind of intervention, yes, – but intervention by way of a net at a particular site is not going to help. They will just go elsewhere. Are we so cynical that "as long as it doesn't happen on our turf" is what matters?
Spend the money on mental health by all means, but not on a static piece of netting. Come on.
San Francisco, can't you do better than that?
The last two photos show the bridge from a distance – taken from Coit Tower. Gives an idea of how that fog creeps up the bay and ignores the rest of the city…