You might remember I mentioned this basilica in Como before – San Fidele. It was started in the 6th Century and in its heyday in the 11th, when the cathedral was started a couple of streets away, to eventually dwarf it.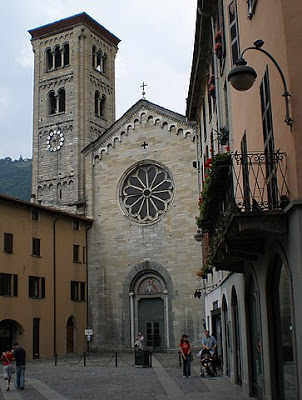 And on the Piazza of San Fidele there were these very old buildings jutting out onto the square, their wooden beams cut a mere 1,200 years before…

So then I found that one of them was a bookstore. A working bookstore. With books.

Happily the beams have been reinforced with steel. (Believe me, if you could have seen the state of some of those beams, you'd be glad too…deathwatch beetles or something similar had had a medieval feast for several hundred years.) And in the fantasy section, I found at least one Australian author. Yep, Trudi Canavan is for sale in a medieval bookstore.

Ok, to be strictly accurate, the place – started in the 6th century was actually the baptistry of the basilica, not a bookstore, way back when. At least, that's what I think it said on the blurb in the store. Unfortunately, it was all in Italian…
Nonetheless, I wanna be sold in a shop as delightful as this one!