–
Before and after pix: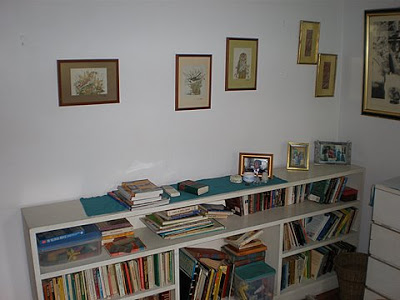 When my friend Hrugaar was coming to stay, I cleaned the spare bedroom. And I noticed that there were two items missing from the walls. Which was a bit freaky. Someone been sneaking into the house to pinch items from the bedrooms?
I turned the place upsidedown, wondering if this was the first signs of senile dementia or Alzheimer's in yours truly. Perhaps in some unremembered moment of scattiness, I had tucked them away in the freezer or washing machine or something.
Commonsense prevailed. The room gets periodically used by visitors. One of my guests just didn't like what was on the walls and took them down and hid them. They were eventually found – after Hrugaar had long gone – tucked away under all the items in a storage drawer of the room.
I'm afraid this just strikes me as weird. They were carvings made of wood, collected by my husband on his travels. Wood, you know. Dead trees. They aren't emitting radiation. They don't contain hidden cameras or microphones. They are harmless bits of wood, lovingly and beautifully carved for tourists, by not-very-wealthy artisans trying to make a living out of travellers coming to their country to gawk at them.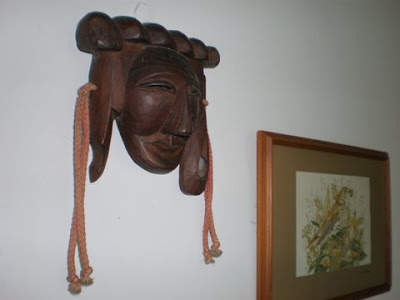 Yeah, I am intolerant of superstition. Very. Call it cultural differences if you like; I tend to think of it as the kind of thinking that keeps people poor and backward, that makes a women suffering from cancer seek out a witchdoctor or traditional medicine man, and end up dead as a result. The kind of thinking that makes someone gullible to conmen. The kind of thinking that makes conservation students too scared to go into the forest because of the "spirits" there. The kind of thinking that makes people try to find easy substitutes for hard work and commonsense, you know, "think positively and you'll end up rich". And before you laugh at that, think of the wild success that feng shui proponents have had, or that ghastly book called "The Secret" by Rhonda Byrne.
Maybe she was right at that – guess who made a fortune by believing she could write and market a book about wealth and health through positive thinking, positive that hundreds of thousands of the gullible public would buy it? Now there's proof for you!