On the edge of Como city there is a funicular railway that goes up the hill to Brunante. From there you can walk to a Lighthouse overlooking the lake. You also get great views of the duomo and the city.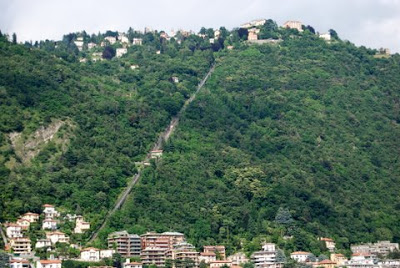 If you look carefully at the next photo, you will see the line of the old city wall, now marked by lines of trees and a broader road. The cathedral, then, was once close to the wall.
And if you look at the next photo you will see there is another church just several blocks to the left of the cathedral (built 1396-1740), which was once also within the city walls. It predates the cathedral, in fact, and is called the Basilica of San Fidele. It was built around the 6th century and rebuilt in the 11th!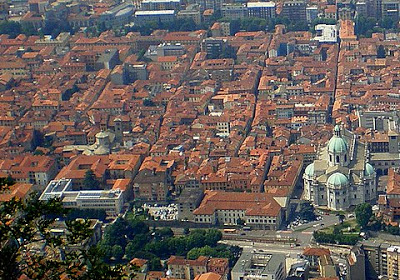 And when we came down from Brunante, we stopped to have lunch at the restaurant below (panini – melted cheese and tomato and zuccini on toasted bread). Yum. Why do these things taste so much better in Italy?)
Actually Jo said something about that in her
blog recently
. Americans, she said, put too much onto their pizzas. She is right. Italian taste relies on freshest ingredients and subtle tastes just done to a turn – and the best of cheeses. And in Como, I think the taste might have had something to do with the scenery too…