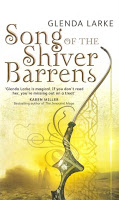 This one comes from SFX online, where you can read the whole thing.
"In the end, the main questions are: is it enjoyable? Do you care about the characters? Is it well-written? The answer to all these is yes.
"In the final book in the Mirage Makers trilogy, Mirager-heir Arrant takes centre stage. Most of the action is seen from his perspective, as the scheming in Tyr becomes sidelined and the real threat that has been building throughout the trilogy emerges: the malevolent Ravage threatening to destroy the Mirage, and with it the ability of Arrant's people to use magic.
"As in the previous novels, this is a story of emotions and politics rather than bloody war, and Larke tells it well. You struggle with Arrant as he's humiliated and manipulated, and are genuinely uncertain as to whether he'll endure and what his fate will be."
Well, they did spoil it a bit by saying at the top of the review that the author was David Gunn, but never mind. I hope David doesn't mind either…