There is an ongoing High Court case here about whether a Catholic weekly has the right to call their deity "Allah."
The weekly was prohibited from using the word "Allah" by the Home Ministry, and the Catholics are appealing.
How bizarre is that?
I have visions of the deity up there in heaven (whatever s/he is called) scratching their head over this one. The world price of rice has doubled in 5 weeks, someone stole the metal in a pylon and blacked out almost the entire state of Sabah when the pylon collapsed, stories of pollution and corruption dominate the newspapers, a couple of young kids – evidently kidnapped by paedophiles – are still missing … and this is what the High Court and the Catholic weekly and the Home Ministry worry about?
In the name of God, let's have some sense.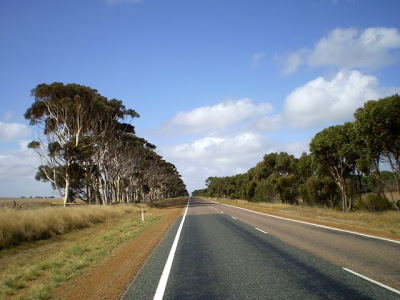 Pix: an Australian country road (between Esperance and Stokes…)