We spent 6 days in Esperance, and exploring the southern coast in both directions.

To sum up: this has to be the most stunning coastline in the world. If it was in the Mediterranean or California, it would rank as having the world's best beaches. It would become the hang-out of the rich and famous.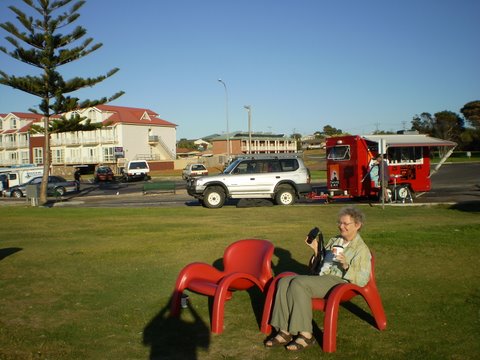 Luckily for us, it is largely unknown and it remains mostly deserted, pristine, undeveloped and quite, quite glorious. The Med? Forget it. Sydney? Or California? You've got to be kidding.
You know how you look at those brochures of
beach resort in high-priced places? And you say to yourself, hey, the sea is never that colour – they must have used a polarising filter to get that…!? Well, along this coastline, the sea is that colour, all by itself. No filters or messing with photoshop needed.
Translucent aquamarine in the shallows, to a deep blue in the depths, water scribbled across with the white froth of surf or the thundering foam of combers, or sometimes – in the sheltered bays, the gentle lap of laced riplets. They have it all – broad white sands, coloured rocks, island after island (105 named island in the Recherche for a start).
God, I love these southern shores. Forget Naples. See the Esperance coast and live.

Start the day at dawn with a walk along on Esperance Bay, then sit on the esplanade and have coffee overlooking the sea. Walk down the jetty and look at the sea lions basking on the water. Take a drive around the coast to look at some of the town beaches. Go out to the Recherche Archipelago and have lunch at Woody Island. Then explore the numerous nature reserves and national parks up and down the coast as we did. Walk the trails. Climb the hills. And wonder why you never came here before.

In a day or two I will post some photos of those brilliant beaches that will make you drool.