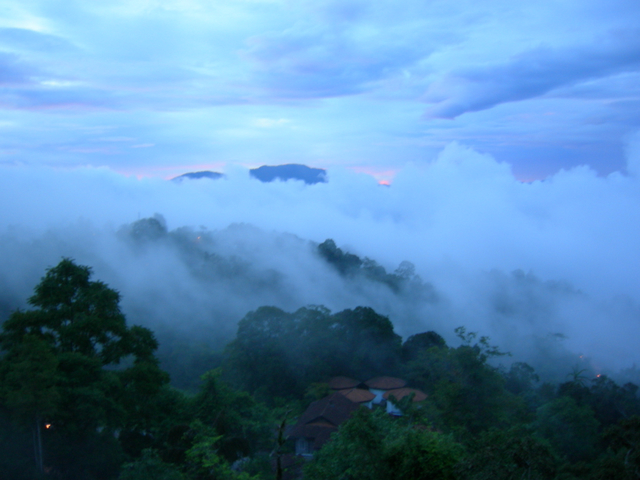 Recently I was up at Fraser's Hill, with a long time friend who recently came back to Malaysia for a dose of nostalgia.
I love the way the mountains change. How a few minutes can mean a totally different scene. I love the sounds of the forest – the rush of rain as it moves across the valley towards me, bird song and gibbon woops and the squirrels' chattering indignation, the whoosh of hornbill wings like a steam train going up a hill. I love the way the mists mutes nature, sight and sound.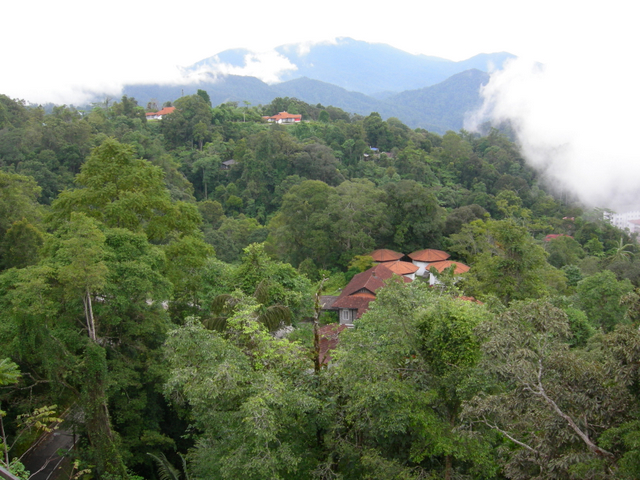 Fraser's is over 1000m in altitude, and therefore a lovely cool place in the tropics. All these photos were taken from balcony of the apartment where I stay – thanks to the wonderful generosity of another friend.
Years ago, many decisions were made that came close to spoiling this idyllic hill resort – ruinous development plans such as an extravagant golf course and resort, now closed down because no one came. The people who appreciated the quiet and the nature were beginning to give the place a miss. With their ill-conceived actions, authorities halved the number of kilometres of walking trails, and their passion for slashing the forest edge away from roads and banks as much as possible increased the probability of landslips and decreased the probability of seeing wildlife such as birds.
Birdwatchers still come though, even though it is more difficult to see birds, and the local authories managed to ensue that one of the world's premier birdwatching accommodations, the famous Gap Resthouse, is pretty much abandoned. You have to have the persistence of a nagging fly, and a knowledge of the Malaysian language, and insider information to crack the code of how to book it – and then when you arrive you have to chase down the key holder like it was buried treasure because they totally ignore your booking and you starve to death because they don't want to cook.
But the general public doesn't go to Fraser's. Too dull, the KLite says. Nothing to do. No shopping, lah. No internet cafes. No clubs. Few restaurants or stalls. No night life. No day life either, if it comes to that. What is there to do?
You see them sometimes, driving around in their cars with the radios on and the windows wound up, hooting every time they come to a corner.
So Fraser's is tatty and rundown. Locals leave because there is no work.
It's only an hour or two from the city. You'd think that people would come to recover from the the horrors of KL – from the traffic jams and noise pollution, dirty air and dust and construction, snatch thieves and carjackings and break ins.
Alas, they don't. They don't see what I see.