The other day I was in the Borders Bookstore over at the Curve in Bandar Utama, and (as authors tend to do, alas) looked to see if they had any of my books. They didn't, at least not in the fantasy section, nor in the general novels. So I asked an assistant.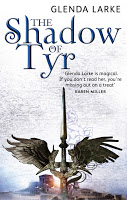 Because there were two down as unsold in the inventory, a delightfully helpful gentleman then went to a great deal of trouble to look for them. He even emailed me afterwards to tell me that even a thorough search had not managed to unearth the missing volumes. So if you go there, you are unlikely to find "Heart of the Mirage" – but I can thoroughly recommend the staff.
And I am left wondering if folk have been stealing my books. (Come on, guys, you are supposed to pay for them, you know.)
And I have just received a box of author copies of "The Shadow of Tyr", so that title should be in the bookshops here soon. (It is already on sale in the UK and on Amazon.co.uk. ) MPH in MidValley had a stack of "Heart of the Mirage" not so long ago and some should still be there. The store in Subang Parade also had it recently. I haven't tried Kinokuniya but I imagine it's there too.
So happy holiday reading everyone – and don't forget, give books as presents.