Here are some photos taken around the Port of Semporna, south-eastern Sabah. (see map previous post)

1. Note the banks of lights on the squid boat…




2. Water village
3. Note the logs floating on the right, on their way to the sawmill.
4. Children pulling boats – they are diving for tin cans on the ocean floor for recycling.
5
&
6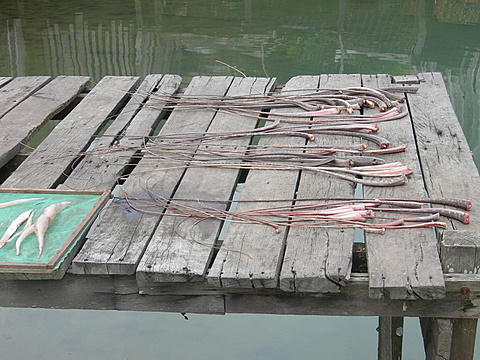 The Kalimantan Fisheries Company- with some washing drying on a saw-horse, and on the end of the jetty, the tails of stingrays and the swim bladders of fish.
Expensive delicacies….
7. Photos of the tourism centre and hotel complex all built over the water.
8. Is a picture of the dog that was sitting right outside the tourist complex. Does no one here realise how repulsive tourists, at least Western ones, think such a sight is? What is the point of a lovely tourist complex on the one hand, if a few paces away, the tourist sees something that makes him think we are heartless and uncaring?