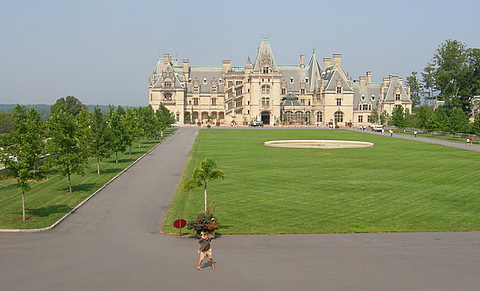 Along the way we took a day to explore Biltmore Estate.
Everything about this reminded me of visiting one of Britain's stately homes – Longleat or Chatsworth, for example, mixed in with a chateau in France for good measure. There was a working farm, a winery, a forest – and a house. My grandson said it was a palace, and I guess he was right.
My hips forbade me from accessing anything other than the two floors accessible without climbing stairs, but even so, it was a fascinating day. Built in the 1890s by one of the Vanderbilt family as his home, it was first opened to the public during the depression years. It is still America's largest private house, and is owned by the grandson. The house covers 4 acres – just to put that in perspective, I grew up on a mixed farm which was just 8 acres, and which was large enough to support our family.
I expected something over the top grand and garish and was pleasantly surprised. Well, the Great Hall was a bit ridiculous, super-sized and worthy of nothing less than an absolute monarch, complete with thrones and an organ and somehow more reminiscent of a cathedral in its grandeur and size, but the rest of the house was rather lovely. My favourite bits were the hand-tooled leather walls of the billiard room, and the gold-painted burlap walls in one of the bedrooms. That's right – burlap. Surely one of the cheapest and plainest of fibres (otherwise known as gunny sacking, or hessian, made from jute…)
And there were a couple of Renoirs, a painter who has always been one of my favourites. Lovely.
Unfortunately photos were not allowed inside, but here are some photos taken outside and in the grounds.