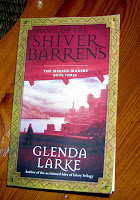 I continue to be over the moon about the reaction to Song of the Shiver Barrens. All my agonising and re-writing evidently paid off, and in the end I must have managed to produce a good book.
I think my favourite comment has to be this one from Fi the Webgoddess:
…she has a wondrous way of zigging when other authors might zag which makes for really refreshing reading. I inhaled this book — couldn't put it down. I wish there were more…
But then there was Barb, who said: How did you manage to reduce me to tears not once, not twice but THREE times from page 328 onwards…?
And Tsana who wrote: so many moments where I thought "No! That can't happen!" How do you do it, Glenda? It was heart-wrenchingly brilliant.

So now that I am content with one launch, what do I do? Start worrying about the next one, of course! Heart of the Mirage in the UK … two weeks … bite nails … will anyone buy it? … they've put the cover up on Amazon … I've sent off book plates to South Africa … will anyone over there buy it? … aaargh ….and if they buy it, will they like it?
I hate waiting.