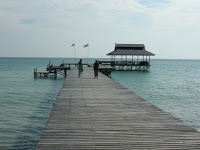 Patty's first question was this: Which book that you've written is your favourite and why?
Hmm…no one asks me easy questions.
This one is hard because I tend to forget about all the books I've written before and concentrate on the one I am writing at the moment. It becomes my be-all, and everything else fades.
But that's not a fair answer.
I loved writing the stand-alone Havenstar, the very first to be published, but I haven't re-read it since, so I am not sure how it will have stood the test of time. I loved it because I thought I thought I created a really neat world that hadn't been done before. And I liked the hero. Dark, infuriating, tragic, heroic, brave, stoical – he is all of that. Of all the books I have written, it is Havenstar that gave me the least trouble. It flowed out of my fingers, and was hardly changed after it's initial polish.
The Isles of Glory – well, I like the way it was framed, by the letters/diary from the near future. I thought that gave it a depth that it wouldn't have had otherwise. I enjoyed writing Blaze, the larger-than-life heroine with a self-deprecating sense of humour and a very large sword…
But of the three books of that trilogy it was the middle one – the only one that didn't get shortlisted for the Aurealis! – that I loved the most. Writing Gilfeather was a labour of love. I liked Kelwyn so much. He's a complex man, very human and very humane; he tries so hard, but everything seems to conspire against him, dragging him into horrifying situations. The more he tries to do the right thing, the worse things get. I put him through hell, and I felt for him so much. Besides, I loved the end of that book. I loved the way it shocked so many of my readers, who didn't see it coming in spite of all the clues. And any writer with a diabolical streak loves doing that…

I have tried to do something similar with Song of the Shiver Barrens, not with the ending, but with something that happens just past the halfway mark. However, I am a bit too close to the whole trilogy yet to know how I feel about any of the books comparatively.
So I would have to say my favourite is Gilfeather. I think it is one of my best books. The weird thing is that it has had the worst sales – Book One and Book Three of the Isles of Glory sold many more copies and I am at a loss to explain why.
Actually, I'd love to throw this questions to my readers: which of my books is your favourite?
I'll answer your other question tomorrow.